--------------------------------------------------------------
1. Ancient Phoenicia was a loose confederation of city-states arising around 3000 BC continuing until about 146 BC (when Rome utterly destroyed their final capital city of Carthage). The Phoenicians were initially located in the area of modern Lebanon. Their culture was known for seafaring commerce and trade, and subsequently colonizing. A 22-character alphabet, that became the basis of Hebrew, Greek, and Roman script, is considered the greatest legacy of the Phoenicians.
For a great overview of known Phoenician cities and colonies, and the source of this map, see http://phoenicia.org/colonies.html (Mar 2017):

We don't know where the Phoenicians came from before they arrived in the Levant around 3000 BC. We also don't know what they called themselves; some oldest inscriptions, dating back to the 15th century BC refer to them as Canaanites. This matches Genesis 10:18 which show Canaanites spreading from Sidon to Gaza along the coast. Their major city, to start, was Sidon, so these Phoenicians were also called Sidonians in Bible (see Deuteronomy 3:9; Joshua 13:4, 6; Judges 3:3). Tyre soon surpassed Sidon in influence. Phoenician colonies, like their original cities, were often built on rocky promontories and islets with a view over harbors in highly defensible positions.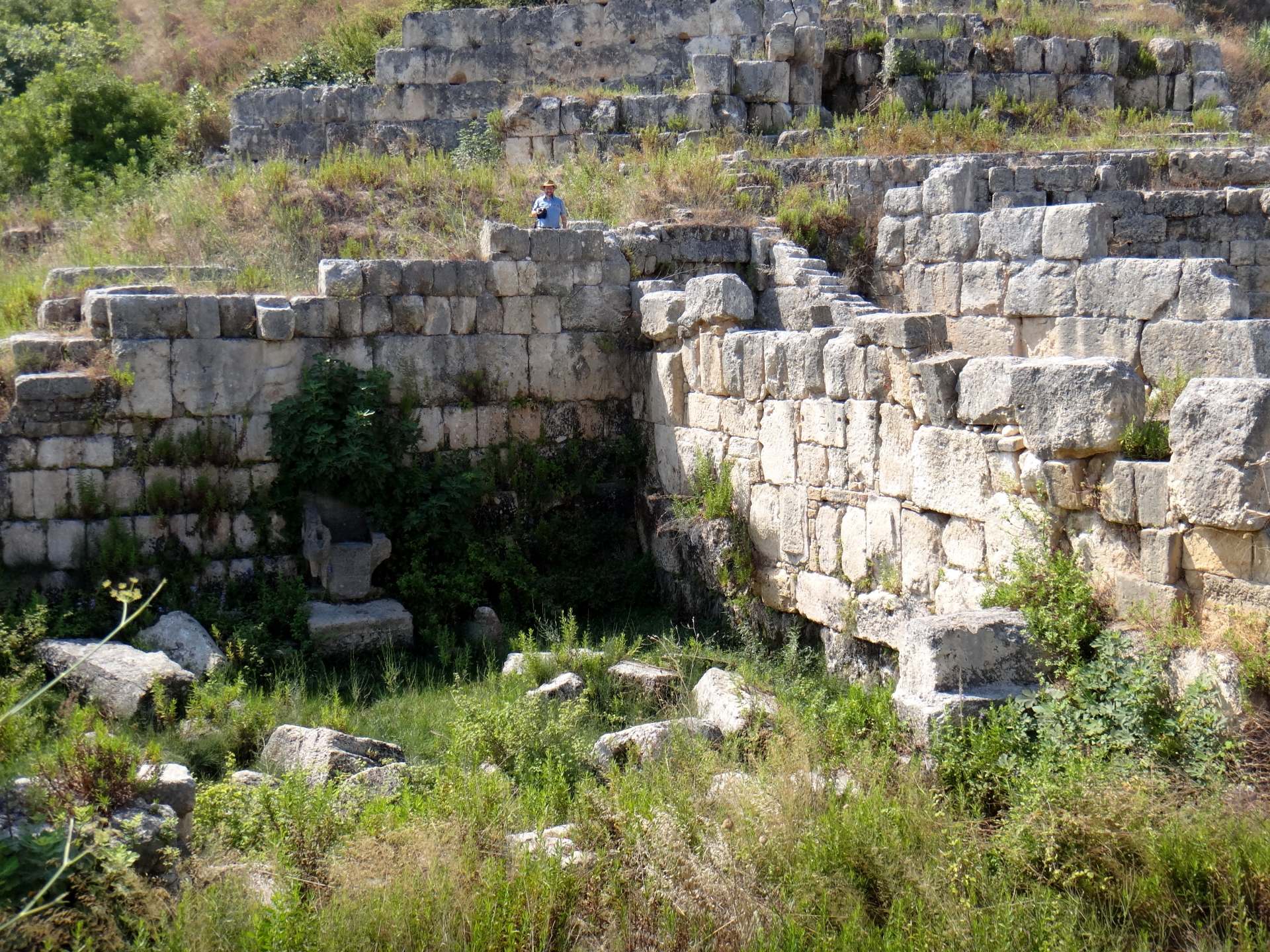 Author, Brent MacDonald, at temple of Eshum, Sidon (Lebanon)
The Phoenicians traded in the available resources of their homeland, including their rich forests (consider cedars of Lebanon, but also pine and cypress). It was as traders that they were best known. Other desired exports included textiles and glassware. Phoenicians were noted for rich purple colored cloth, pigments coming from the snail in murex shells. Small hills of these discarded shells, several meters high, have been found in Sidonian excavations. Phoenicians glassware was often clear, though they also made colorful glassworks. Some believe they invented glassblowing. As importers of metals, from far away sites, they also were known for their art in metal working.
The following map shows how their trade area spread westward over time. Notice the key location of Utica which made it a strategic location for an early colony: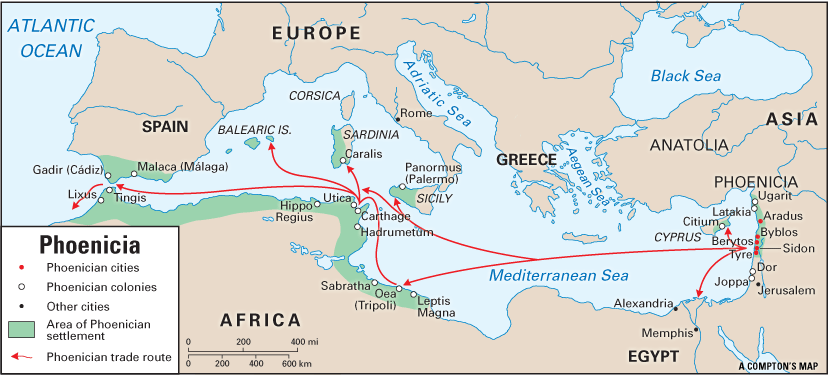 2. Esarhaddon Inscription: Assur Babylon E.
3. For example: http://phoenicia.org/britmines.html (April 9, 2017)
4. Professor Timothy Champion, writing on Diodorus Siculus's comments on tin trade, states that "Diodorus never actually says that the Phoenicians sailed to Cornwall. In fact, he says quite the opposite: the production of Cornish tin was in the hands of the natives of Cornwall, and its transport to the Mediterranean was organized by local merchants, by sea and then over land through France, well outside Phoenician control." (Timothy Champion, "The appropriation of the Phoenicians in British imperial ideology", Nations and Nationalism 7 [4]: 451-465)
5. For example: http://www.oxfordbiblechurch.co.uk and http://www.prophecydepotministries.net (both April 9, 2017)
6. Rufus Festus Avienus (lived circa 305-375 AD), a Latin writer, first suggested Cadiz in southern Spain (Gades in Latin).
7. Chapter 9 of Herman Melville's 1851 Moby Dick has Father Mapple claiming Spanish Cadiz as Tarshish.
8. Samuel Bochart (lived 1599-1667 AD) associated Tarshish with Tartessos in southern Spain in his two-volume Geographia Sacra seu Phaleg et Canaan, published in 1646.
9. This legend is part of the legends of Hercules (Heracles). See Herodotus Histories 4.8 (lived circa 484-425 BC) and Diodorus Siculus 4.18.2 (lived circa 90-30 BC).
10. Roman historian, Velleius Paterculus (lived circa 20 BC - post 30 AD), in his Roman History, cites without source that Cadiz was founded a few years before Utica. It's likely he was echoing earlier legends.
11. Smith's Bible Dictionary, 1863, Entry on Tarshish
12. Jonah 1:1-3 Now the word of the LORD came to Jonah the son of Amittai, saying, 2 "Arise, go to Nineveh, that great city, and call out against it, for their evil has come up before me." 3 But Jonah rose to flee to Tarshish from the presence of the LORD. He went down to Joppa and found a ship going to Tarshish. So he paid the fare and went down into it, to go with them to Tarshish, away from the presence of the LORD. (ESV)
13. Greek explorer Pytheas of Massalia (lived circa 350-285 BC) is quoted by the Greek writer Strabo (1st century AD): see Geographica or Geography 3.2.11.
14. Greek explorer Pausanias (lived circa 110-180 AD) wrote in the time of Roman emperors Hadrian, Antoninus Pius, and Marcus Aurelius. For his mention of Tartessus, see Description of Greece, 6.19.3
15. See http://www.ancient-origins.net or http://beforeitsnews.com/science-and-technology (both April 10, 2017)
16. See http://www.uhu.es/pablo.hidalgo/docencia/registro/archivos/ljsanchez/ also https://en.wikipedia.org/wiki/Tartessos, section "Archaeological discoveries" (both April 10, 2017)
17. See http://www.historyireland.com/pre-history-archaeology/ (April 10, 2017)
18. See Herodotus' (lived circa 484-425 BC) Histories 1.163 and Ephorus of Cyme (lived circa 400-330 BC). Ephorus' preeminent Universal History is only known through later citations and not the original works.
19. The analysis was done using lead isotope ratios. Biblical Archaeology Review: Tarshish: Hacksilber Hoards Pinpoint Solomon's Silver Source, 01/06/2017 and "Survey of Archaeological Research on Tartessos," American Journal of Archeology 91 (2), Javier G. Chamorro, 1987.
20. This would be like the Phoenicians saying ships of Phoenicia (or Lebanon, in modern terms) instead of stating a ship of Tyre or a ship of Byblos. Though these cities were part of a loose confederacy they were independent and under defined local control (typically hereditary rulers), providing competition and desired specific prestige among them.
21. See http://www.bernardsmith.eu/Cadiz/Cadiz.html for an article citing some of the evidence for Cadiz' early name, including Phoenician coins.
22. The earliest Phoenician sites in North Africa (modern Tunisia) show very strong contact and intermingling with early Greek peoples. Pre seventh century BC Greek artifacts are commonplace, including at Carthage.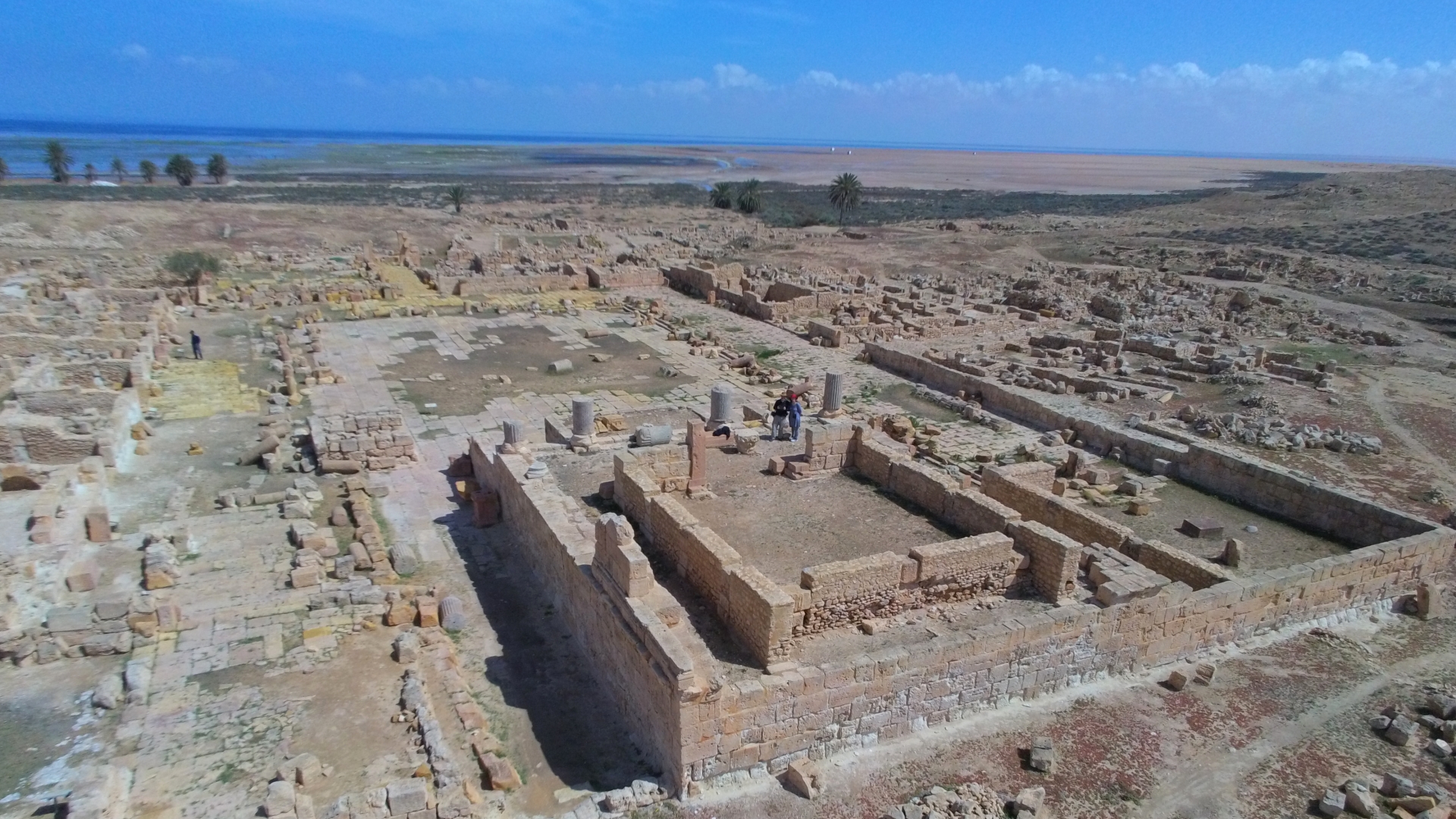 Another sea coast Phoenician site, Gigthis (later a Roman city)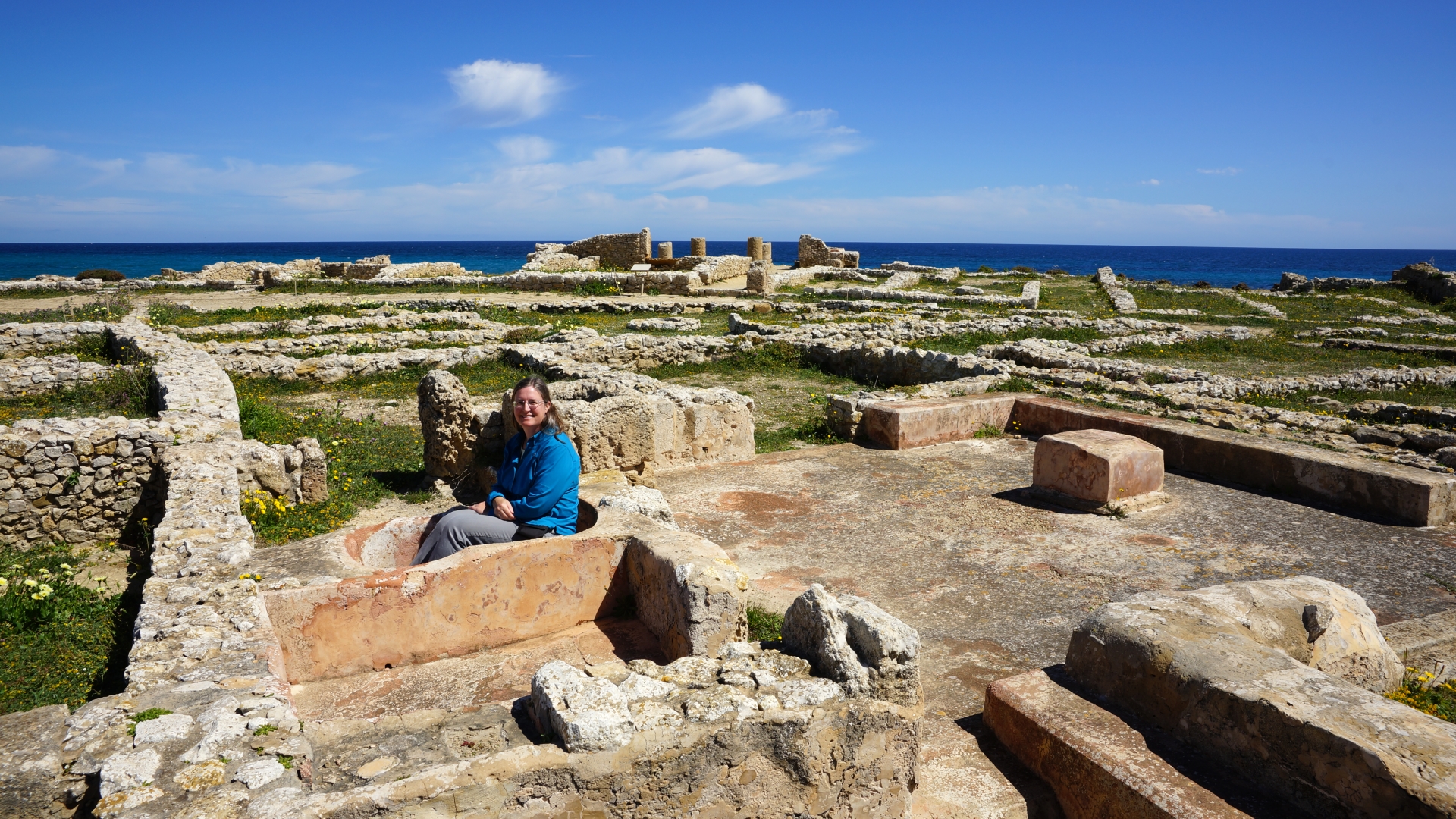 Coastal Kerkouane was very advanced, with a water system and bathtubs
23. See the book: The Phoenicians in Spain: An Archaeological Review of the Eighth-sixth Centuries B.C.E. : a Collection of Articles Translated from Spanish, edited by Marilyn R. Bierling, Seymour Gitin, Eisenbrauns, 2002. The writers recognize "Tartessian sites" and "Phoenician colonies" and claim that finds confirm Strabo and Velleius Paterculus on the founding of Cadiz and early dating, yet admit the earliest physical evidence, "the beginnings of the Phoenician presence in the southwestern Peninsula based on the results of recent excavations," is 8th to 6th centuries BC. (See especially pages 262-267 covering Cadiz and Huelva).
24. In the Septuagint (LXX), see Isaiah 23:1, 10-14 and Ezekiel 27:12; 38:13. In the Jewish Targum of Jonathan, see 1 Kings 22:48; Jeremiah 10:9.
25. Phoenician Sousse (Hadrumetum), founded in the 9th century BC, though earlier than Carthage, still wasn't early enough and much stronger evidence supported Utica. For more on Sousse see Middle East and Africa: International Dictionary of Historic Places edited by Trudy Ring, Noelle Watson, Paul Schellinger, 1996 (Entry "Sousse" Page 649)
26. Tradition from Greek writer Philistos of Syracuse (lived circa 432-356 BC), in his multivolume History of Sicily claims a very early foundation date for Carthage - around 1215 BC (specifically before the fall of Troy in 1180 BC). Physical evidence (or lack of early physical evidence) combined with knowledge that Carthage was the new city to Utica both show that he was wildly wrong. Later Greek historian Timaeus of Tauromenium (modern Taormina in Sicily), who lived circa 345-250 BC, in his work Histories provides a much more probable date of 814 BC (specifically 38 years before the first Olympiad). This better fits physical archaeological evidence showing mid-8th century BC (see the book Carthage: A History, by Serge Lancel, 1995, pages 21-31 and web articles: http://whc.unesco.org/en/list/37, April 2017 and "History of Carthage" http://www.historyworld.net/wrldhis/PlainTextHistories.asp?historyid=ab91, April 2017). Most now use a date of circa 814 BC for Carthage.
27. Frank Moore Cross' speculative interpretation of the 3.5 foot high, 2 foot wide, Nora Stone has him adding two starting lines to the eight showing, with the stela referring to a local battle fought and won. The stone does make reference to Tarshish, but whether the Tarshish of Scriptures, as the name is common, is even in dispute. See http://cojs.org/the_nora_stone-_c-_831-785_bce/ and https://en.wikipedia.org/wiki/Nora_Stone (both April 2017)
28. "It can be safely assumed that in the eighth century BC the Phoenicians founded their first settlements in Sardinia." (See http://www.tharros.info/ViewText.php?id=1104, April 2017).
29. Titus Flavius Josephus, lived circa 37-100 AD, Antiquities of the Jews 1:127 or 1.6.1
30. Some use the specific date of 1101 BC, making it technically the late 12th century BC. (For example: The Encyclopedia Britannica: https://www.britannica.com/place/Utica-Tunisia, April 2017)
31. Aristotle, lived 384-322 BC, de Mirabilibus Auscultationibus 100.146. Pliny the Elder, lived 23-79 AD, Natural History. Velleius Paterculus, lived 19 BC-31 AD, Roman History 1.2.3.
32. Menander of Ephesus (wrote in the early 2nd century BC, his writing was preserved by first century AD historian Josephus, see Against Apion 2:18 and Antiquities of the Jews)
33. Personal observation March 2017 - the little that is excavated is mostly from the Roman era, and only a very small portion of the much lower Phoenician level has been exposed (mostly some necropolis areas). Grave goods in the exposed sections date to as early as the 8th century BC (attested to on site by Tunisia's Institut National du Patrimoine / National Heritage Institute). There's a lot to uncover. At its Roman era peak, Utica encompassed 40 hectares (100 acres): see Romano Africano Tunisia, Edition 3, produced by Tunisia's Ministry of Culture, Page 14, 2002.
34. The modern name for Utica is Utique. The name Utica is from the Phoenician "Utih" or "Attiq" (similar to the later Arabic "Uttayqah"). It was also known in early literature, translating from Hebrew ("Atiq"), as Atica ("the ancient city") - see the book: Travels or Observations Relating to Several Parts of Barbary and the Levant, Thomas Shaw, page 162, 1808; citing Protestant biblical scholar Samuel Bochart (lived 1599-1667 AD), Geographia Sacra seu Phaleg et Canaan (1646). The name Carthage is from the Phoenician "Kart-Hadasht" or "Qart-Hadasht."
35. Quote from the Commentaries of Jewish-Portuguese scholar, Bible apologist, and statesman Isaac Abravanel (alt. Isaac ben Judah Abarbanel or Abravanel), who lived 1437-1508 AD. For someone who lived close southern Spain, he saw no merit in identifying Tarshish with nearby Huelva or Cadiz.
36. Augustine of Hippo, lived 354-430 AD, made Utica renown due to his mention of it in The City of God (written circa 412 AD). He believed a giant molar tooth he saw on the shore of Utica was evidence of a race of giants before the flood of Noah's day (Book 15, Chapter 9).
37. Details from Greek historian Strabo, lived circa 63 BC-23 AD, Geographica.
38. Others recognize that calling a city "Old City" means Utica had a different original name: http://www.historyfiles.co.uk/KingListsAfrica/AfricaUtica.htm, April 2017.
39. http://www.ancient.eu/article/881/, April 2017
40. Greek historian Herodotus, lived 484-425 BC, Histories 4.42. This occurrence was during the reign of Pharaoh Necho II in Egypt, circa 600 BC, and commissioned by him.
41. Herodotus (lived circa 484-425 BC) Histories 4:43.
42. For example, see Psalms 72:10 and Ezekiel 38:13.
43. https://www.britannica.com/place/Saba-ancient-kingdom-Arabia, April 2017
44. In the early to mid-1700s, when searching for the site of Utica using ancient descriptions of its location, they focused the search on the shore line, little suspecting the major siltation that now placed the site many kilometers inland. They later speculated that silting may have placed the location inland "three or four miles from the sea shore" which appeared "to be an acquisition of the continent" by the "copious addition of mud that is left at every inundation by the Me-jerdah (river)... by frequently shifting its channel." They were only halfway to the actual 7.5 miles.
"As then all of them agree (Pliny the Elder, Strabo, etc.) that Utica was a maritime city, situated betwixt Carthage and the Promontory of Apollo (at the western end of the Gulf of Tunis), we are to search for it upon the interjacent sea coast. But here are no ruins at all to be met with in this situation; there is no eminence, under which Utica is said to have been built; there is no promontory, which lay at a small distance to the E. or N.E. and formed the harbour. (...) Utica therefore cannot be found upon the sea coast, according to the present shape and fashion of it, by any of those tokens and characteristics that are left us of it by the ancients." (Travels or Observations relating to several parts of Barbary and the Levant by Thomas Shaw, page 161, 1808 - a corrected update to his published 1757 edition. His first edition dates to 1738).