Another problem with kingdoms and countries is that they sometimes shrink or grow over time. A specific region may legitimately be considered to be part of a country in one timeframe, but then be part of another country in a later timeframe. Some have tried to obscure the issue of what country is in view here by making broad statement which merge the territories cover by much of modern Sudan and Ethiopia as though they were one region in ancient times - as if this justifies using the modern name Ethiopia for the whole.
The only way to know for certain what region, kingdom or empire is in view for any Bible passage is to know the extent of entity being reference in the timeframe of that specific text. Specifically, what was the kingdom of Cush when the aforementioned passages were being penned?
Since we have one passage that very clearly identifies a well-known Cushite ruler, namely 2 Kings 19:9, this is a great place to start.
Timeframe:
Associated with Sennacherib who ruled Assyria c. 705-681 B.C

Taharqa/Tirhakah was Pharaoh of the 25th Dynasty of Egypt, c. 690-664 B.C. End Note 1

Associated with Hezekiah who ruled Judah c. 716-687 B.C. (and likely earlier as co-regent)
Like most dating of ancient personages, those dates may vary by a view years and are, as such, estimates (hence the "circa" used in association with them). Regardless, something very clearly is identified in this passage: Taharqa was a ruler over Egypt, in a dynasty of Cushite kings, was clearly identified as coming from another land/kingdom, namely Cush. We know this also from hieroglyphics and inscriptions which identify this man as the Pharaoh of two lands. The timeframe in question here is clearly the early 7th century B.C.
To understand the Kingdom of Cush, a brief journey through earlier history is necessary. The Egyptian Pharaoh Thutmose III extended his kingdom all the way to a place called Napata (near Jebel Barkal) in kingdom directly south of Egypt known as Nubia. End Note 6 To this day, the very dark skinned people of this region from the southern border of Egypt to north of Khartoum are known as Nubians. During the New Kingdom Egypt viewed Napata as its southern border. Egypt governed Nubia as two separate regions, Wawat and Cush.
As the Egyptian New Kingdom crumbled into the instability of the Third Intermediate Period, around 1070 B.C., the Nubian people were able to regain an increasing level of autonomy. The governors of Cush now became independent kings. The entire nation was known as The Kingdom of Cush (alt. Kush). Their capital was the city of Napata and so they were also known as the Napatans. End Note 7 By 750 B.C. the Cushite (Napatan) king Kashta had turned the tables and was attacking Upper Egypt. Rulers such as Piye (alt. Piankhi), Shabaka and Taharqa solidified and maintained control over Egypt, only losing it late in the time of Taharqa (due to Assyrian intervention in Egypt). End Note 5
The entire period of Cushite history now known as the Napatan period was as era characterized by the Nubians diligently imitating Egyptian forms of art, architecture, burial rites, and religion. The Egyptian god Amun was the primary state god. All royal inscriptions were written in the Egyptian language using hieroglyphics.
This kingdom of Cush, outside of Egypt, based in Napata was the area in view when the Hebrew word for Cush was translated into a variant of Aithiops.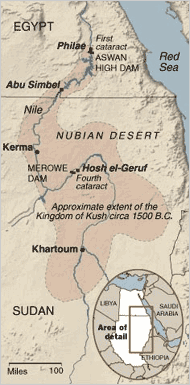 While this Kingdom of Cush would contract and expand slightly (and control all of Egypt for a time), take note that the modern county of Ethiopia is outside of the area of the Kingdom of Cush. Some scholars think that a portion of modern Ethiopia may have been controlled by Cush for a brief time, but Ethiopia as a whole was certainly a different country and dynasty. End Note 9
Moving through the first three Old Testament passages we referenced, each of them is also in reference to the Napatan kingdom of Kush. Besides the inconsistent translation shown earlier, utilizing Cush or Ethiopia, each is again shown below with the third forth translation possibilities. For reference I've also included the approximate timeframe for each writer.
Isaiah, prophesied circa 742-700 A.D.
Isaiah 18:1 Beyond the rivers of Sudan there is a land where the sound of wings is heard. (TEV, God's Word)
Jeremiah is prophet, lived circa 646-575 B.C., and prophesied from 626 B.C. onward.
Jeremiah 13:23 Can a black man change the color of his skin, or a leopard remove its spots? If they could, then you that do nothing but evil could learn to do what is right. (TEV, also ERV)
Ezekiel is prophet, lived circa 622-570 B.C., prophecies ranging from 593 - 571 B.C.
Ezekiel 30:4 There will be war in Egypt and great distress in Sudan. Many in Egypt will be killed; the country will be plundered and left in ruins. (TEV)
The Easy to Read Version and Today's English Version each notably focus on the skin color, the primary meaning of the word Aithiopos, something that is could be warranted by context, without delving into the specific nation that might be in view. Perhaps best illustrating the inconsistency of translation, God's Word turns the reference to Cush in Ezekiel 30:4 into Ethiopia and the repeated reference in 30:5 (not shown above) into Sudan, perhaps trying to cover all the bases.
Yet, across the board, all four Old Testament references we have looked at were in reference to the peoples of the Kingdom of Cush - something the Hebrew text directly conveys. The Septuagint translator, rendering Cush into Greek, choosing to use variations of a word that focused on a descriptive, namely their skin color, was a legitimate translation in their day. Variations of this word are shown to be used in regard to the people of Cush from other contemporary literature as well. And yet, the Greek speaking world did not appear to be concerned with specificity or national accuracy, they also use the term for most of the world south of Egypt. Perhaps this first set the stage for the later confusion which still infects our English language translations.
Word study dictionaries are often not a great help here either. For example, try this entry for the Old Testament Hebrew word Cush:
Cush probably refers to the territory of southeast Mesopotamia, although the northern Upper Nile region is not impossible. Most often the term Cush seems to refer to the Upper Nile regions (Est 1:1; Job 28:19; Ps 68:31[:32 ]), north of Ethiopia. Tirhakah, a Cushite king of Egypt, reigned in the time of Hezekiah (2 Kings 19:9). (The Complete Word Study Dictionary: Old Testament)
This entry is a mess, having Cush reference a portion of Asia (southeastern Mesopotamia), suggesting it could include the upper Nile regions north of Ethiopia (in Africa) and then giving a majority of examples that that do reference this area - namely the ancient Kingdom of Cush (in the area of modern Sudan). The latter, of course, is correct and Tirhakah was a Cushite king from that region, but this is not made clear in this entry.
We now need to return to the New Testament and its sole two-part reference to Aithiopos.
Continuing our history of the Kingdom of Cush; the specific kingdom centered in Napata (the Napatans) continued to thrive, following their losing control of Egypt, until around 591 B.C. (around the time Ezekiel was prophesying). The kingdom had now somewhat weakened, with Persian conquest of Egypt affecting their primary trading partner and a devastating Egyptian raid on Napata itself in 591 B.C., with Napata being burned. Whether due to the destruction of Napata or for strictly economic reasons, another city now began to function as the economic capital of the Kingdom of Cush, namely Meroë. The Island of Meroë (about 275 km to the southeast) was an area rich in Iron which not only was a source of wealth but also strength. While the Napata (Jebel Barkel) area retained some significance, for royal burials and coronations and other religious functions, by the mid-third century BC Meroë finally became the official center of a new dynasty and era.
This was still the Kingdom of Cush, but now it is referenced as the Meroitic Period. During this time Meroë became the site for royal burials (pyramids), new gods were introduced to their Egyptian pantheon, plus a markedly different cultural and artistic style became evident. In fact, a Cushite alphabetic script and the use of a local language ("Meroitic") became part of formal inscriptions. (Efforts to better understand and translate the Meroitic language are still ongoing).
This Meroitic Kingdom of Cush continued to grow and thrive, reaching its peak around the time of Christ, continuing until around the fourth century A.D. (Meroe as a city was abandoned between c. 300-350 A.D.)
The references to the Eunuch in the Book of Acts do not pertain to the country of Ethiopia. The New Testament Greek word Aithiopos, following suit with the Septuagint of the Old Testament, continues to refer to the Kingdom of Cush, specifically the dynasty now located at Meroë. And yet, English translations do not reflect this whatsoever (consider NIV, NASU, ESV, NET, ISV, KJV, CJB, HCSB, God's Word, ERV, CEV, GNT, NKJV, NCV, NLT, TEV, WEB).
Some footnote the word with a generic "That is, from the upper Nile region (NIV)" but this would still allow the reader to think that the nation of Ethiopia is still in view.
Once again, word study dictionaries offer little help:
(derivative of "Aithiopia" 'Ethiopia,' not occurring in the NT) a person who is a native of Ethiopia - 'an Ethiopian' (Acts 8:27). ("Aithiops" from Greek-English Lexicon Based on Semantic Domain. Copyright © 1988 United Bible Societies, New York. Used by permission.)
While the preceding entry is completely incorrect, focusing on a misinterpretation of the Greek word as we have already seen, these following entries all appear to utilize a common, but outdated, source for their conclusion:
Ethiopian Acts 8:27, here the reference is to upper Ethiopia, called Habesh or Abyssinia, a country of Africa adjoining Egypt and including the island Meroe ("Aithiops" from Thayer's Greek Lexicon, Electronic Database. Copyright © 2000, 2003, 2006 by Biblesoft, Inc. All rights reserved.)

Ethiopian (Hebrew "Kuwshiy"): Acts 8:27, here the reference is to upper Ethiopia, called Habesh or Abyssinia, a country of Africa adjoining Egypt and including the island Meroe; (see Dillmann in Schenkel i. 285 ff; Alex.'s Kitto or McClintock and Strong's Cyclopaedia under the word Ethiopia . Cf. Bib. Sacr. for 1866, p. 515). ("Aithiops" from Thayer's Greek Lexicon, PC Study Bible formatted Electronic Database. Copyright © 2006 by Biblesoft, Inc. All rights reserved.)

Aithíops; gen. Aithíopos, masc. proper noun from aíthomai (n.f.), to burn, and ops (n.f.), face. Ethiopian. In Hebr., a Cushite. Found twice in Acts 8:27. The Ethiopia referred to here, as in Isa 18:1; Jer 13:23; Ezek 30:4,5,9, is what is called Upper Ethiopia or Habesh, lying south of Egypt on the Nile, and including the island of Meroe. ("Aithiops" from The Complete Word Study Dictionary: New Testament © 1992 by AMG International, Inc. Revised Edition, 1993)
The last entry is closest to the truth, making proper note of the word's meaning and ties to the Old Testament term "Cush", but the kingdom based on the Island of Meroe was never "Upper Ethiopia" or "Habesh" or, for that matter, "Abyssinia." End Note 10 It was the Kingdom of Cush or the Meroitic Kingdom. Usage of anything else is misleading.
(The next major kingdom controlling the geographic area of Cush was the Christian Kingdom of Makuria. See End Note 11 for some details.)
Now that we know that the Meroitic Kingdom of Cush is in view, during New Testament times, we next must consider "Queen Candace."
There is no Queen Candace, using Candace as a proper name. Candace is a title, similar to the title Pharaoh in Egypt (or even ancient Cushite usage). It would better transliterate into English as Kandake, rather than substituting c for each k, as is commonly done. A number of Meroitic queens had this title.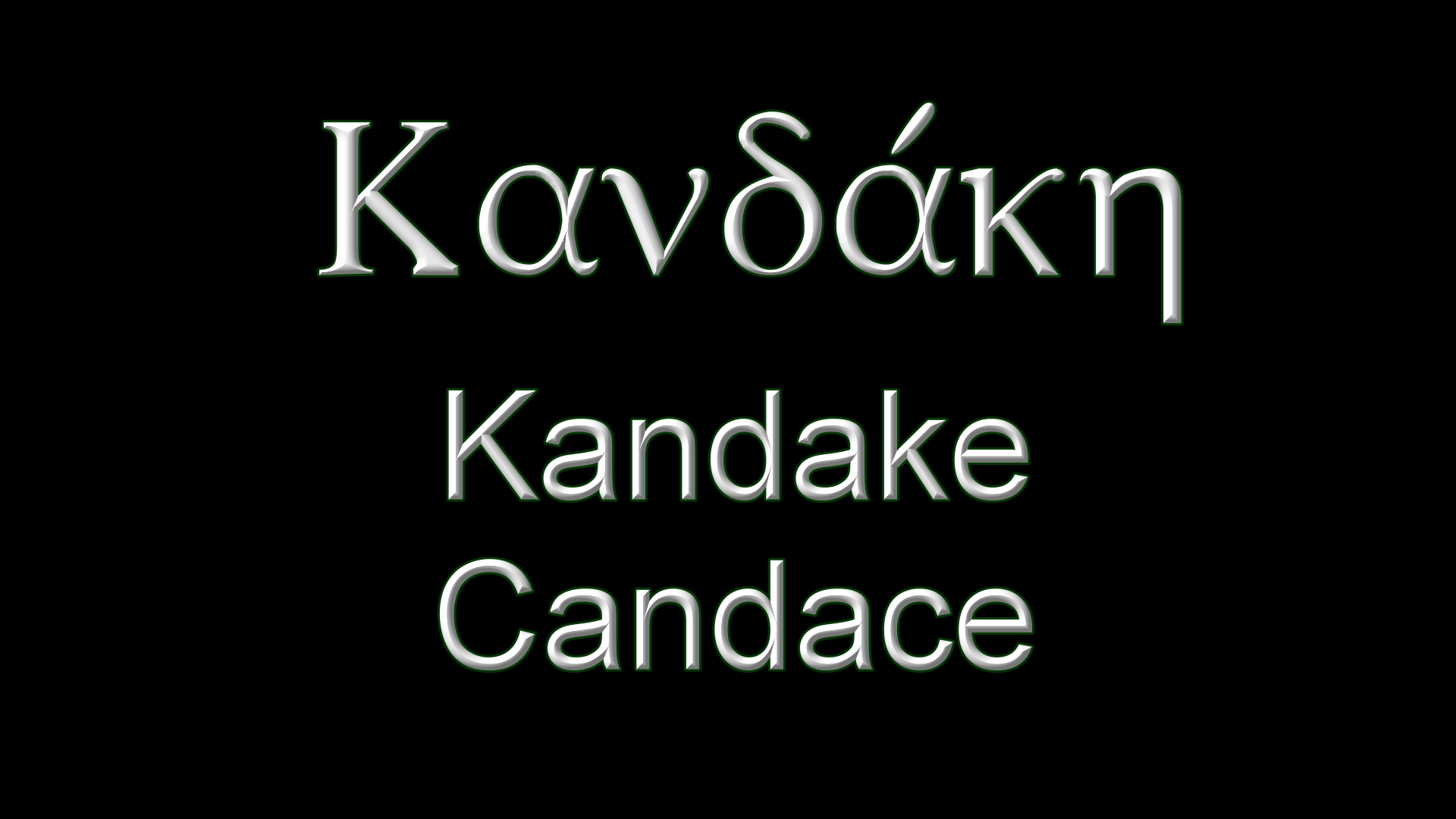 One translation even uses Kandake as a title, yet sadly continues to use Ethiopia for the place:
Acts 8:27-28 So he started out, and he met the treasurer of Ethiopia, a eunuch of great authority under the Kandake, the queen of Ethiopia. The eunuch had gone to Jerusalem to worship, (New Living Translation)
The twin footnote of the New English Translation (NET Bible) is perhaps one of the best at trying to explain this and yet the translation itself does not incorporate this knowledge into the wording:
tn Or "the Candace" (the title of the queen of the Ethiopians). The term Kandakes is much more likely a title rather than a proper name (like Pharaoh, which is a title); see L&N 37.77. A few, however, still take the word to be the name of the queen (L&N 93.209 ). BDAG 507 s.v. Kandakes, treats the term as a title and lists classical usage by Strabo (Geography 17.1.54) and others.

sn Candace was the title of the queen of the Ethiopians. Ethiopia refers to the kingdom of Nubia in the northern Sudan, whose capital was Meroe (not to be confused with Abyssinia, which was later called Ethiopia and converted to Christianity in the 4 th century A.D.). Classical writers refer to several queens of Meroe in the 1st century B.C. and 1st century A.D. who had the title Candace (Kandake). The Candace referred to here was probably Amantitere, who ruled A.D. 25-41. (from The NET Bible)
These footnotes still try and keep the word Ethiopia while describing a country that is not Ethiopia. In fact, the NET's translated "a court official of Candace, queen of the Ethiopians," should be better rendered as "a court official of the Kandake, queen of the Meroitic Cushites (or even 'queen of Cush' for brevity and as a more literal translation)."
For clarification, the specific queen in view is either one called Amantitere or Amanitore. Circa 1 A.D. a King Natakamani and Kandake Amanitore began to rule (see temple images below). Normally, when we hear of a King and Queen we think of a husband and wife. But in the Meroë period this was not necessarily so. There were a number of Queens that ruled of their own right, some as co-regents with a son and some who shared power equally between siblings. End Note 2
We do not know if Natakamani and Amanitore were brother and sister or mother and son. End Note 3 Some historians view Amanitore as ruling from 1 A.D. until a successor took the throne around 50 A.D. End Note 4 For the first 20 years (1-20 A.D.) Natakamani ruled with her as equals. There is even a possibility that she was regent and that he was her son. Regardless, around 20 A.D. she ruled alone, following the death of Natakamani. An alternate view has another Kandake, with a very similar name (Amantitere) ascended to the throne, at that time (perhaps a daughter). Without additional evidence it's just as probable that Amanitore ruled by herself until A.D. 50 (with the alternate spelling merely being a variation on her name).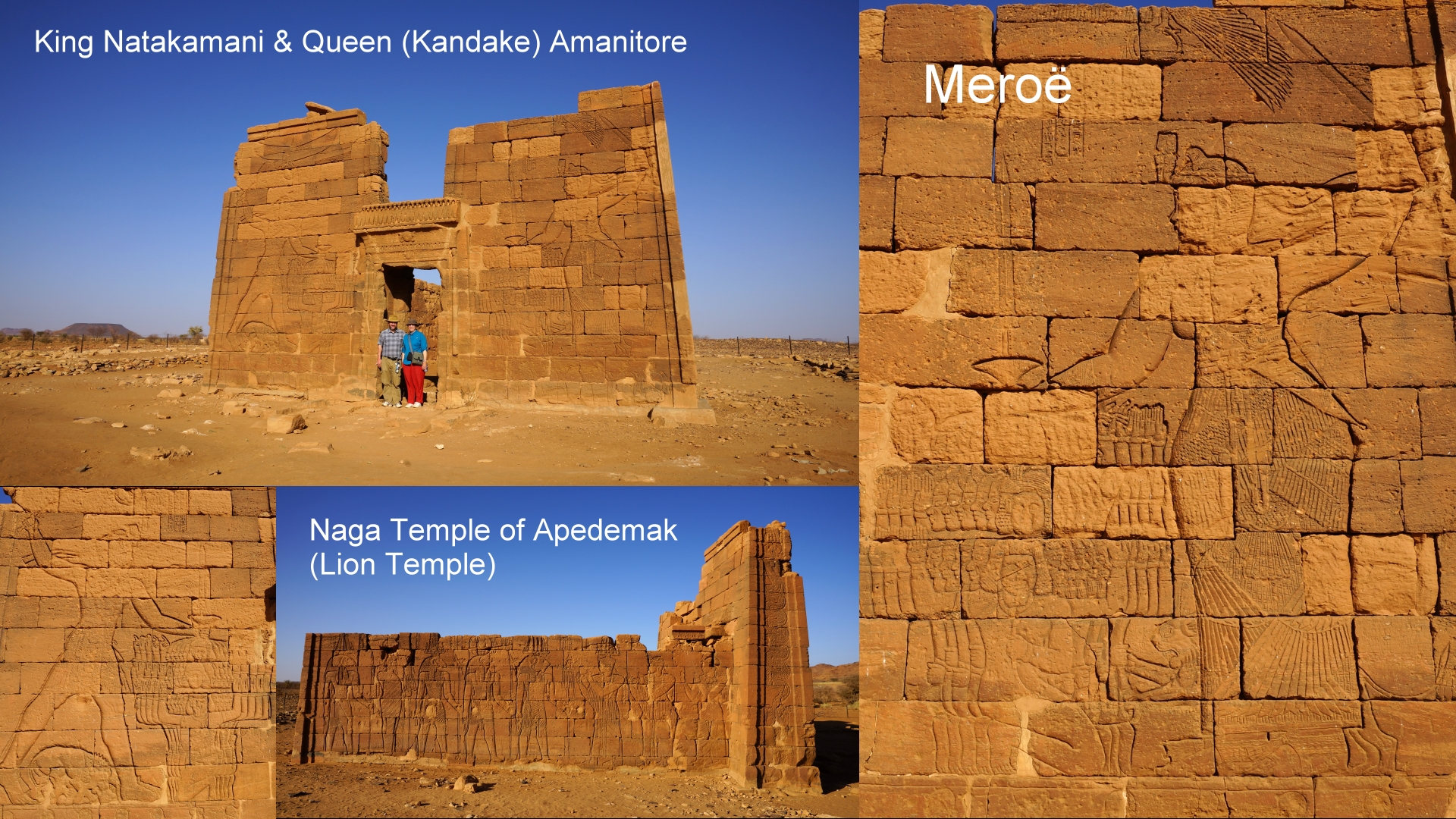 How does Amanitore (or Amantitere) ruling from circa 20-50 A.D. line up with what is predicted by the Biblical account in Acts? Consider that the Eunuch was said to be "an important official in charge of all the treasury of the Kandake, queen of Kush." If a king had been ruling simultaneously, or this Kandake had been a queen married to a king, this man would not have been looking after the treasury of a queen. The text clearly predicts that there was only a queen ruling Cush at this timeframe and that is exactly what archaeology has shown.
Rather than presenting a perceived problem, the account of "Candace" and the "Ethiopian" Eunuch, when properly understood (or, should I say, properly translated) actually affirms the historicity of the Biblical account.
---